Hoarder Cleaning Checklist - Planning, Supplies & Safety (Download or Print)
In order to properly clean out a hoarder's house, it will be important to have a plan.  Use this checklist to help make the process more streamlined; a list for planning, all the way to a list for specialty equipment.  Click on the image near the bottom of the page for its full-size downloadable to use on your project.
Hoarder Cleaning Project Overview
To start, you will want to make a plan.  Check out our article on how to clean a hoarder's house for more info, but don't forget to utilize this list as well as the others below to keep from forgetting anything important.
These are the primary aspects you need to consider when assessing a project prior to starting.  It will help determine whether you need any special items or equipment.  It will also be important when deciding what kind of personal protective equipment you will need.
Is it possible to safely walk around inside the home?
Are there signs of hazardous materials, such as:

Drug use or manufacturing
Mold or heavy mildew

Are there signs of animal infestation?
How much garbage is in the house? Which situations apply:

Can't enter rooms
Can't walk without stepping on things
Only certain rooms are full
Safety Supply Checklist
There are some basic safety supplies you will need for every project and some other gear that will be needed in more severe hoarder cleaning projects.  This list covers the basic items that you should have for any cleaning project that is more than just typical spring cleaning.
Eye protection

Safety glasses
Goggles for heavy scrubbing, especially overhead

Hand protection

General work gloves for picking up typical trash
Latex or nitrile gloves for damp areas
Chemical Gloves for heavy cleaning and scrubbing

Boots with ankle coverage and support
Respiratory protection

Large box of lightweight dust masks
Small box of N-95 Masks 

Clothing and body covers/protective clothing

Long sleeve shirts
Long pants
A few Tyvek suits for really bad areas (these can go over your clothes to keep them somewhat cleaner)

Testing equipment

pH Paper (for checking the acidity and alkalinity of certain substances or areas)
Mold test kit
Lead test strips
Standard Cleaning Supplies
Let's go over the basics. This list covers a typical house that wouldn't be considered a health risk. These supplies apply in situations in where there isn't a larger amount of odors and mold is non-existent or purely surface level.  
Organizing and garbage cleanup

Heavy-duty garbage bags
Moving boxes for organizing and better storage
Garbage pickers (extensions)

Tools

Broom
Mop
Dust pan
Box of rags
5-gallon buckets
Large sponges

Bathroom cleaning supplies
Wood floor cleaner
Window cleaner
Dish soap
Laundry detergent
Specialty Safety Gear and Equipment
Some houses are bad enough that special equipment will be advised.  This is above and beyond what is normally required, and in some cases, the items are for reference purposes only.  If it gets to the point where you need some of the items below, then it's is best to have professionals come in.
Chemical suits (typically yellow) with chemical gloves: If it gets to this point, you have established that there are some major issues. Consider calling specialists in.
Respirator: Get fit tested and use a proper respirator if there are issues like mold or breathing concerns.  Make sure to use the proper cartridges for whatever the problem is in the home.
Large dumpster: Rent a large dumpster from your local landfill or transfer station.  Make sure to get the right size dumpster based on your garbage evaluation.  If it's more than one truckload, it's worth considering a 20 yard to 40 yard dumpster if space permits it.
Ozone machine for odor removal: It can typically be rented from your local rental company. --  Some tips on removing odors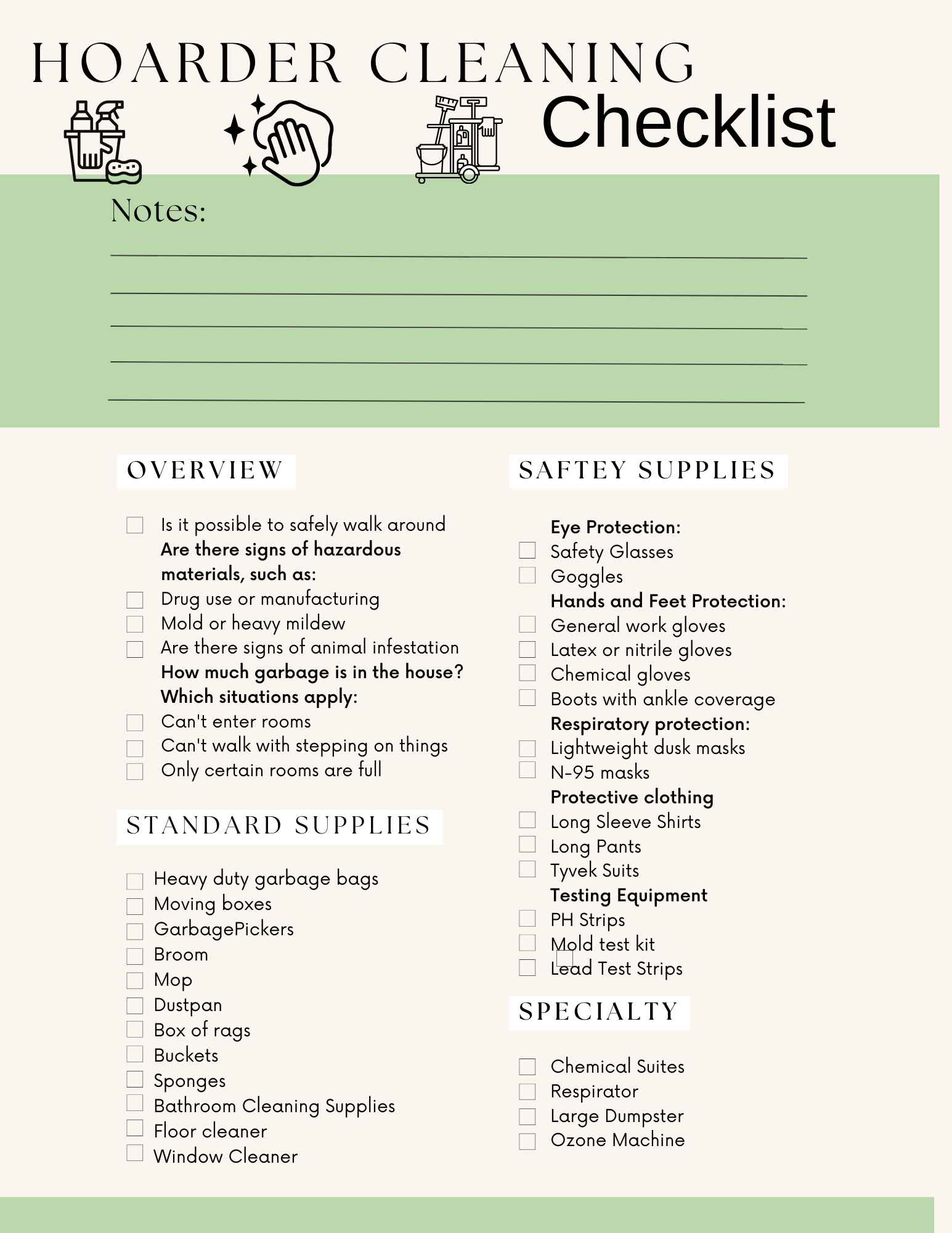 Conclusion: Hoarder House Cleaning Materials are Essential
These lists are a great reference tool with a printable PDF version to download and use for any size project, and you can utilize the checkboxes and notes area so you don't forget anything.  Taking on any cleaning project can be troublesome, but a hoarder house can require a lot more attention, and using these lists can help you from having to go back to the supply store over and over again.  Get more info on other costs associated with cleaning and repairing one of these homes; there can often be a lot of hidden costs.